Enviroconnect is located just around the corner from Hemmant and the Port of Brisbane, so we're well positioned to deal with dock, shipping and yacht IT and connectivity needs. Occasionally these forays into maritime internet and communications take us a bit further afield, as they did with a particular superyacht we worked on recently.
Breathtaking in all regards, this sleek and beautiful charter superyacht represents exclusive tourism at its finest. One of the features the ship offers patrons is Wi-Fi connectivity and reliable communications at all times. With the level of service on offer and no doubt expected by the guests, it's essential that the onboard communication infrastructure is of the highest standard.
This is where Enviroconnect stepped in.
When a Maritime IT Job Falls Into Place
The superyacht crew got in touch with us while they were docked in Brisbane to replace a blown out switch. It turned out they were going to spend a fair bit of time out of the water in Sydney for some maintenance to be completed. Fun fact – apparently, it's known as being "on the hard" when this happens in boating.
As it turns out, the phone system on the boat was in need of an overhaul, as the old analogue system wasn't quite up to scratch anymore. They enlisted Enviroconnect's services to redo the entire onboard phone setup.
Replacing a Superyacht's Phone System
The upgrade was from the analogue system to a new IP (Internet Protocol) phone system, which plugs directly into the internet connection on the boat. The phones use that connection to send and receive voice data, allowing for clear and reliable communications.
The first task was to remove the old PBX phone system. The image below of Ryan performing that task gives you an idea of how little room there is to work with down there! Maritime IT work certainly isn't for the claustrophobic.
Next what we did was install a mini-computer called an NUC (Next Unit of Computing) onto the boat. Space is always at a premium in maritime situations and this small box-shaped computer only measures a few inches across.
The NUC then links with the 3CX phone system on the boat to run it locally. This takes care of all the on-boat comms. You know… for when a guest needs to chat to the bar staff to order down another bottle of Dom Perignon! This local system runs regardless of whether there is an available internet connection or not.
We then had to connect this to the outside world. To do this, SIP (session initiation protocol) was used, which is an application layer protocol that allows your phone system to run over an internet connection rather than an old school phone line. This meant that if there is an active internet connection, the phones could communicate through it to anywhere in the world.
And there you have it! This was a much more confined space than we usually work in, but it was a really satisfying job to complete, and we hope the crew and guests enjoy many hundreds of hours of flawless maritime communications!
Here's a couple more images to give you an idea of how the job went: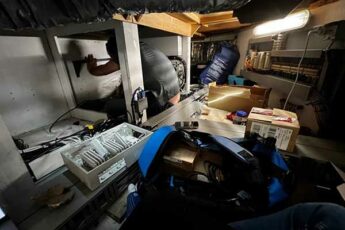 Here Ryan is mounting a vertical rack to mount our switch on. All of the phone lines plug into the switch for power and connectivity, and the switch then runs back to the other end of the superyacht where the server rack is located. Below you can see where the rack, switch and phone lines are installed: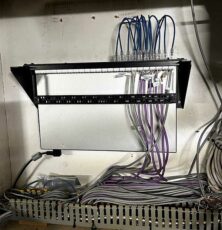 Get In Touch with the Maritime Communication Experts
If you need to improve the connectivity on your vessel, whether it's a superyacht, a ship or a trawler, get in touch with Enviroconnect. We are the remote communications experts, and can bring reliable, seamless connectivity no matter where you are in the world! Chat to one of our friendly team members or IT consultants today.
This article originally appeared on the Smile IT blog and can be accessed here. EnviroConnect is a part of Smile IT.