Nothing quite sends your blood pressure in the wrong direction than a dodgy Wi-Fi network on a busy day at work. Connectivity that's so powerful you don't even notice it is key to a successful workplace. When you have Wi-Fi devices with poor coverage and limited functionality, you're simply not going to achieve that.
Enter UniFi, the Wi-Fi network builder from Ubiquiti that offers easy set-up, robust signal, scalability and so much more to businesses in Brisbane. As an official Ubiquiti partner, EnviroConnect (subsidiary of Smile IT) is proud to offer our clients this Wi-Fi product for so many reasons. We're going to go over five of them today, but first, we'd like to explain a little more what UniFi is all about.
What is Ubiquiti Unifi?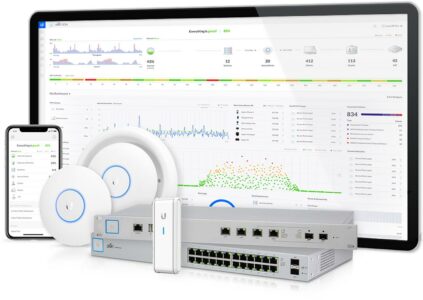 This is a name that's made some serious waves in the world of wireless networking, and for good reason. UniFi will help your business stay connected, whether you cover more than one floor or more than one building.
It's a powerful operating system allowing for end-to-end management of your IT network. A holistic collection of hardware and software is available, from which a network that caters to all your business Wi-Fi needs is built. These products include switches, routers, VoIP phones and even security cameras, access control products and digital signage.
Your internet connection comes into your business or home, and from there UniFi and its intuitive range of products ensure the signal reaches wherever you need it to.
Five Benefits of Ubiquiti Unifi
Let's look at five reasons Ubiquiti's UniFi is a game changer for Wi-Fi in the workplace and at home.
Centralised, Smart Wi-Fi Management
The Ubiquiti UniFi Controller is a central management system that allows you to manage your entire network from a single interface. It's intuitive, easy to use, and will become the brains of your entire network! Designed to run on any operating system, it can be installed in the cloud for access from anywhere in the world.
We love that you can upload a floor plan of your business to the Controller for help with designing your network. This gives a clear visual representation of your office network, giving clear insights into where Access Points should be placed for maximum coverage.
Simple Deployment and Scalability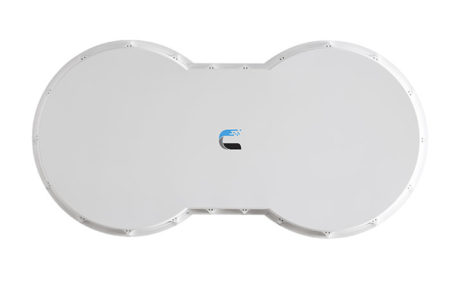 An introduction-level UniFi access point has an impressive range of 122 metres. For most small businesses, that will cover their entire office space. It's easy to set up and manage too, but what's really exciting is how easy it is for your Ubiquiti network to grow with your business. When you add another UniFi access point to an existing Ubiquiti network, the controller immediately recognises it, adds it to the network and makes it accessible to anybody signed into the network. With the correct access points, you can build a network that spans multiple kilometres and supports hundreds of users!
Easy to Use
Being smart is a calling in the tech space, and it's something that Ubiquiti does extremely well. In fact, they're kinda like an Isaac Newton of networking! It's not just the unified controller and easy setup that we've mentioned already, it's the user-friendly way its set up for network users. If your device is logged into the network and you move from one end of your warehouse to another, it'll seamlessly move between access points to ensure seamless connectivity and a strong signal. Now that's smart.
Transparacy and Security
Everything is tracked, managed and controlled with a UniFi network. You can turn on or off individual access points, and you can manage connected devices and oversee their data usage. Network management is efficient thanks to configurable reporting and analytics, and a comprehensive overview of your network health is easily available.
Ubiquiti takes security seriously with UniFi, offering enterprise-grade firewalls and intrusion detection and prevention systems. A standout feature though is the ability to create isolated networks within the entire network infrastructure. This allows businesses to setup guest networks that are distinct to the internal networks, affording them much greater security. You can also segment different departments into different networks.
High Performance
You want reliable, fast Wi-Fi in every corner of your office and home, for everybody connected to the network. That's almost non-negotiable when it comes to your corporate network. With UniFi, there's no negotiation. Dropped connections and dead zones are a thing of the past thanks to devices being able to switch between access points without interruption. With the AC-Wave variant access point providing throughputs of over 2,500 Mbps, all logged-on devices will have ample bandwidth. No buffering!
Contact the Ubiquiti Brisbane Partners
If you're frustrated with your business network, a modular and scalable system like UniFi from Ubiquiti could be the way to go. As a leading IT support company in Brisbane, we're proud to be associated with Ubiquiti. As your local experts on UniFi and all things Wi-Fi, we'd love to help get your business network up to speed. Whatever industry you're in, from mining in Australia to retail, we can help you achieve flawless business communications.
If you have any questions or need any more information about how we can help out, speak to one of our team members today. We're here to help!