Their main Brisbane headquarters and distribution centre is located on Freight Street in Lytton, which was the location for the CCTV installation project EnviroConnect undertook for them.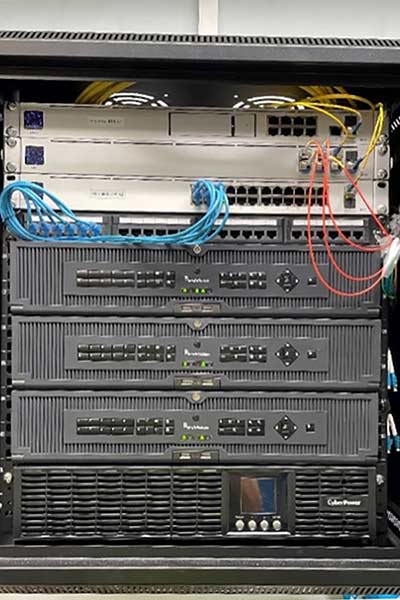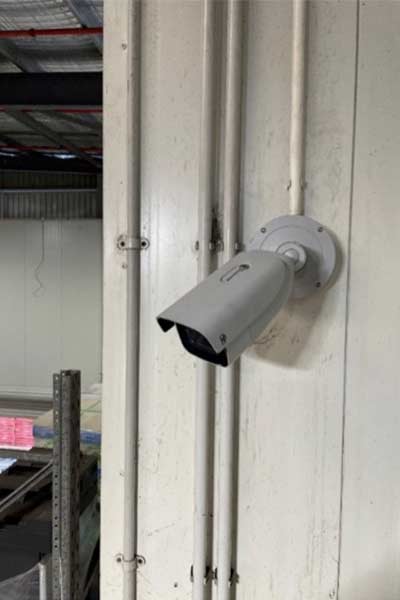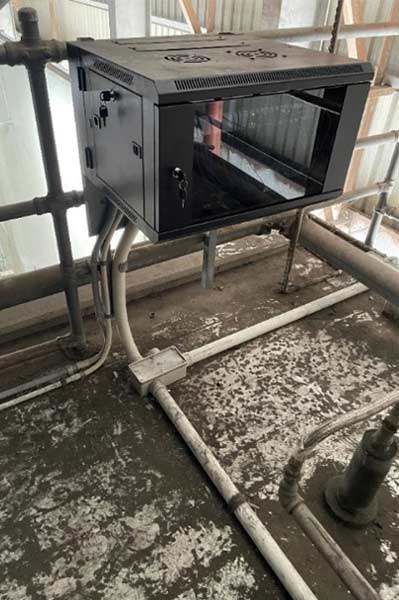 Our client is Australia's largest family operated food service network. They have over 70 distribution sites around the country, employing over 2600 staff and serving approximately 55,000 customers. Their fleet of over 700 trucks delivers dry goods, frozen foods, fresh food, seafood and more to a variety of businesses, from restaurants to aged care centres and hospitals.
The security system at the distribution centre was built around an older mixed analogue and digital CCTV system. It was outdated and insufficient for the needs of our client, and there were also a number of 'blind spots' within the workspace which weren't under surveillance.
An upgrade was required to make it more current, boosting the security, the health and safety and the incident capture capabilities of the premises. A CCTV system that allowed for contact tracing of covid-positive cases within the warehouse and workplace was also essential, given the current context of working in a pandemic.
A site inspection indicated numerous faults which justified a full overhaul of the system. These included:
Insufficient silicon in the junction boxes had led to water ingress.
Ducting was poorly installed with insufficient silicon down through the insulation panels of rooms below.
Cabling between switches and cameras was haphazard.
The main rack was very poor in its housekeeping.
The majority of the Satellite racks had error lights.
There was moisture in panel foam due to a lack of sealant where cables run through insulation panels.
There were areas of concern above the meat processing room where water ingress was occurring around AC power.
Poor sealing of harnesses and poor-quality fixings.
Upon consultation with our client, it was determined the best path was a completely new standalone CCTV system. Designed to eliminate all the pain points above, it would utilise the latest camera surveillance technology to modernising our client's security system and contact tracing capabilities.
Our expert Brisbane CCTV installation team went to work, beginning the installation of a system that included the following hardware:
59 TruVision® 4K Bullet cameras. Low light sensitivity and enhanced image recording processes made these the perfect option for both the internal and external environments requiring surveillance at the warehouse.
6 TruVision® 4K Dome cameras.
5 wall mounted cabinets.
3 32 channel NVR's (network video recorders) with 32 TB hard drives.
5 Cyberpower 1000VA UPS (uninterruptible power supply) systems.
3.7-kilometres of Ubiquiti outdoor Pro Cat6 cabling.
As you can see from the equipment involved, this was an extensive project covering a wide surface area. This, and other factors, presented a number of challenges for our team to work around, including the following:
95% of the project installation was at heights of 3-metres to 14-metres. This meant our team had to utilise Elevated Work Platforms (EWP's) for most of the installs.
Halfway through scoping there was a request to make the CCTV solution completely standalone. This meant a full rework of our Bill of Materials (BOM), as well as an extension to the installation time and the number of man hours required.
Due to the above request, we needed about three times as many cameras as originally planned. This meant significantly more fibre cable was required, increasing the installation risk. A star network of fibre was also required for redundancy purposes.
Global logistical issues meant considerable delays in the delivery of the camera and NVR products.
The combination of Queensland summer temps and refrigerated storage rooms meant that working temperatures ranged from 36-degrees to minus 24-degrees. This was particularly tricky given the mask-wearing requirements on site.
We had to identify slow shift periods and work around them, otherwise pallets and goods in the aisles would hinder the EWP.
Some of the older existing cameras had rusted into their housings, requiring forcible removal.
Have a look at these before and after images to get an idea of the house working improvements we implemented.
The Brisbane CCTV installation project ran for five months, commencing in mid-September and with final handover happening in February 2022. Delays due to COVID and supply chain issues affected the project length, but didn't hinder the quality of the finished result.
The result is a more comprehensive security system featuring logical and tidy installation for easier management, better aesthetics and a more professional feel befitting our client.
Some of the features that set the install and the product apart include:
Cameras have inbuilt harnesses and weatherproof glands installed on RJ45 crimp and camera connections.
Conduiting through the insulated panels has industrial grade silicon sealing the gaps and joins.
Any penetrations had silicon applied for weatherproofing.
All cable (outdoor rated) runs were either installed within conduiting or ducting, or within 'U' channels of roofing.
Suitable junction boxes and conduiting was used for fibre, maintaining straight as possible runs.
Racks were all punched down and patched neatly via an upgraded UPS.
Cameras were installed with pre-sighting and alignment for best scene capture.
Cameras were all named and documented.
Fibre runs were all drawn and documented.
This is a sustainable CCTV solution that will meet our client's needs long into the future. Among the numerous advantages it offers our clients are the following:
Superior coverage of the warehouse and workspace, eliminating blind spots. 
Contact-tracing capabilities to make pandemic regulatory compliance more easily manageable.
Effective capturing and monitoring of safety incidents.
Ability to more closely monitor vehicles and any incidents that occur with them.
Reduction in theft across the business.
As well as improving efficiency and helping make the workplace safer, the CCTV system will have a follow through effect on insurance claims and costs, reducing operational costs and improving overheads.